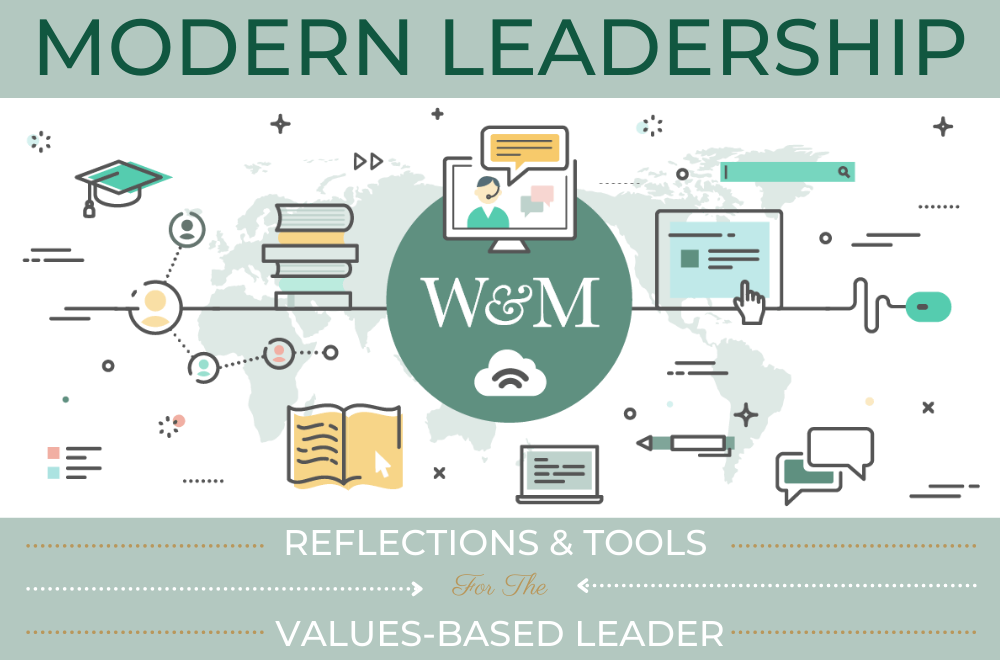 Presented by the:
William & Mary Washington Center
This course offers a values-based approach to organizational leadership and provides tools to develop a values-centric organizational leadership structure.

Enrollment is currently closed for this course. Check back later for future iterations.
Modern Leadership Overview
Set out as an endeavor to provide professional level staff members with the tools to be better leaders leading better workplaces, this course comes as a continuation of the leadership course series put on by the William & Mary Washington Center. However, this course is not just for members of the William & Mary Family. It is for any professional who wants to learn about and apply values-based leadership skills taught by world class leaders from across many industries. We will feature prominent speakers from the realm of William & Mary (and beyond) leading sessions on topics like Authentic Leadership, Appreciative Inquiry, Leading in Ambiguous Times, and several other interesting topics. We believe this 10-session, 5-week course is exactly what the modern workplace is looking for to develop and hone the skills of their leadership staff. Come join us as we embark on and a research backed exploration of what it means to be a Modern Lea
der.

The course details are as follows:

Duration: 5-weeks
Mode: Synchronous, online classes
Assignments: Participants will be asked to complete some asynchronous pre-meeting readings so that the synchronous sessions are even more engaging, contribute to discussion boards and reflect on the content through journaling (less than two hours/week total outside of class).
Dates: Tuesday, January 25th - Thursday, February 24th, 2022
Times: Tuesday & Thursday evenings from 5:30-7:30 p.m. (see FAQs for timezone conflicts)
Meetings: 10 sessions total, 2 hours per session
Requirements: Participants who complete 9/10 modules (although all 10 are encouraged) and associated assignments will earn a certificate of completion from the William & Mary Washington Center.



Registration/Payment will be handled through a TouchNet payment portal that can be found here. Fee structure is as follows:
General Registration:

$1,525

W&M Alumni:

$775

W&M Young Guarde:

$525

W&M Employees:

$525
Undergraduate Students: Contact Us


We
HIGHLY
encourage all potential participants to review the courses full description, explanation, and other information on the
course series website.
The session list below is subject to minor changes between now and the beginning of the course.
Hear what past students say...
#Fantastic | #Enlightening | #LeadingFromTheHeart | #Authentic | #PhenomenalSpeakers
"I am now more self-aware as a leader and can identify areas of opportunity regarding my own professional trajectory/landscape."


"This was a spectacular course. It was a great opportunity to interact with exception leaders."




"The breakout groups were probably some of the most helpful parts of the class. I really appreciated being able to learn from others' experiences and discuss plans of action."
"It was fantastic ... to dig deeper in the smaller discussions. ...Roxane offered fantastic support. Pam & Michael had tremendous vision & leadership for this course.

Pamela Eddy, Ph.D.
Featured Instructor
Pamela Eddy is a professor of higher education and an affiliate faculty member at the Belk Center for Community College Leadership and Research. Her research interests include community college leadership and development, organizational change and educational partnerships, gender roles in higher education, and faculty development.
Full Bio Found Here
Michael Powell, J.D.
Featured Instructor
Michael K. Powell is the former chairman of the Federal Communications Commission (FCC). He was appointed by President Bill Clinton in 1997 and appointed Chairman by President George W. Bush in 2001, serving until 2005. In his current role as President & CEO of NCTA. Chairman Powell serves on several nonprofit boards.
Full Bio Found Here.
Tyler Wilson
Course Manager
Tyler Wilson primarily serves as a program coordinator for the William & Mary Washington Center. Tyler will serve as the course manager for this course and assist participants with nay question, needs, or concerns they may have about the course, its progression, or their own progress to completion.
Created with